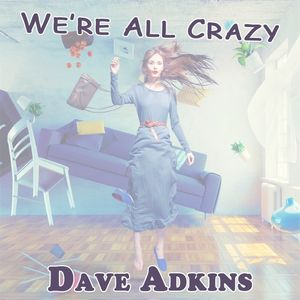 Willis, Va. (April 22, 2022) – Mountain Fever Records is proud to announce a new bluegrass single, "We're All Crazy," written by Skip Black, Aaron Goodvin, and Catt Gravitt, performed by the award-winning singer-songwriter, Dave Adkins. 
"We're all crazy sums up how I feel about driving across the country to play an hour and a half of music, and by the time we get home, you realize you are just doing it to play! We're all crazy about something," said Adkins. 
Adkins received a 2022 SPBGMA Nomination for Male Vocalist of the Year, a Top 10 Inspirational Country Music's Bluegrass Artist of the Year (2018), and an International Bluegrass Music Association (IBMA) nomination as Emerging Artist of the Year (2015). He is also an award-winning songwriter achieving significant chart success with his many original songs. Adkin's fans, or "friends" as he calls them, are also very receptive to his cover song renditions, such as his bluegrass version of "Dixieland Delight," a massive hit for Alabama. That song and the new single, "We're All Crazy!" will appear on Adkins' forthcoming bluegrass album scheduled for release later this year. 
In addition, Morning Glory Music, part of the Mountain Fever Records label, released an original Christian song by Dave Adkins titled "Say Jesus" last year. The song will appear on his upcoming contemporary Christian album also releasing this year.