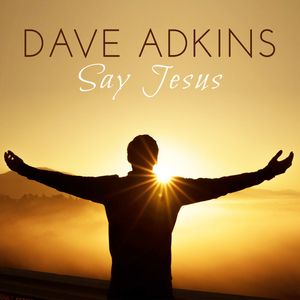 Morning Glory Music is proud to present the new single, "Say Jesus," by award-winning singer-songwriter Dave Adkins. Tim McDonald and Dave Adkins wrote this modern southern gospel song destined to become a favorite song of praise. Adkins' impressive career and chart success has proven he can cross many genres with his stunning vocals and powerful delivery. 
"I am so excited to have you hear the first single from my upcoming gospel album. My great friend Tim McDonald shared this song with me, and I was lucky enough to become a co-writer," said Adkins. "It has been my dream to do a gospel record with all the bells and whistles, and this project means the world to me. A huge thank you to Mark Hodges and everybody who has worked so hard putting their hearts and souls into this album. I hope folks enjoy listening to it half as much as I enjoyed making it." 
There is no mistaking Dave Adkins' raw and powerful vocals. He appears on two tracks on the 2020 Grammy™ Nominated "Best Roots Gospel Album" Gonna Sing, Gonna Shout by Rick Lang, including the spectacular "Thinkin' Outside the Box" song with Tammy King and Jerry Salley. 
Adkins' tremendous chart success includes two #1 albums on Billboard's Top 10 Bluegrass Album Chart. Additionally, his radio chart success is remarkable with original songs and co-writes like "Blood Feud" with Larry Cordle and "Turn and Burn" with David Morris and Dawn Kenney. Adkins has quite the knack for choosing cover songs, including his beautiful rendition of "I Can Only Imagine," that is his most streamed song on Spotify. 
"Dave and I talked about doing another gospel record following the huge success of "Turn To Jesus," the acoustic Gospel record we made a few years back. Dave's friend Tim McDonald is a phenomenal piano and keyboard player, so we asked him to play on the record. On their way to the studio during that long drive, they co-wrote this song that turned out to be the first single from what will be an incredible album. Everyone who has heard samples says the same thing.... 'We could listen to this all day,' and that's what we've done, over and over," said label chief, Mark Hodges. 
Adkins is joined on "Say Jesus" by a choir consisting of Rhonda Hodges, Missy Delgado, Kate Delgado, Michael Slusher, Alan Vest, Erica Windham, and label owner Mark Hodges. Musicians include Seth Taylor on guitar; Nick Falk on drums, Tim McDonald on keyboard and piano; George Mason on violin; and Aaron Ramsey on bass." 
Adkins' significant chart success, coupled with his energetic live performances, has kept him touring extensively this year. For more information on his music and upcoming tour dates, please visit DaveAdkinsMusic.com and follow on Spotify.