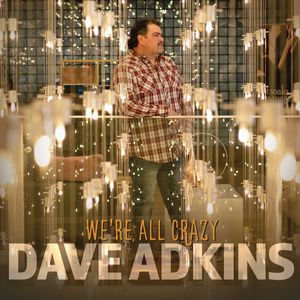 Willis, Va. (Aug. 5, 2022) – Mountain Fever Records is proud to announce the new album, We're All Crazy, by Grammy-nominated Dave Adkins, is now released. Adkins shines again on this new project delivering soulful and powerful lead vocals that earned him a 2022 nomination as the SPBGMA Male Vocalist of the Year. 
Adkins is joined on the album by Will Clark on mandolin & harmony vocals, Jeff Partin on bass, dobro, & harmony vocals, Jason Davis on banjo, and Aaron Ramsey on mandolin & harmony vocals. Ramsey also mixed and mastered the album. 
"I hope this new music has something for everybody. The songs are special to me, and I hope you find one special for you on this record. I sure appreciate the great musicians and writers and all the folks that help make my music possible," said Adkins. 
The title track, "We're All Crazy," debuted on the Bluegrass Today Top 20 Song Chart at the end of April and has charted numerous times since then. The album features Adkins' original, "Cold Hearted Woman," and his previously released single – a cover of "Dixieland Delight" that Syntax Creative calls "a worthy alternative to one of the all-time bar-jam/college party anthems." Other tracks include "Dear Departed," the love song "Best I've Never Been In," the haunting "Traveler," the melodious "Blind Hawg," and "Friday Night Jesus." Rounding out the album is "Headed for the Hills" and "Bluegrass State of Mind." 
Dave Adkins' extraordinary vocal and songwriting talents are evident from his numerous albums on Mountain Fever Records, including Better Days, Right or Wrong, Nothin' to Lose, and his self-titled album, Dave Adkins, that shot to #1 on Billboard's Top Bluegrass Album Chart immediately upon its release. During his impressive career, Adkins has achieved a long list of awards and nominations in the bluegrass, country music, and gospel music industry, along with achievements for his songwriting talents. 
Dave Adkins' extraordinary vocals can be heard on the 2020 Grammy-Nominated Best Americana Roots Gospel Album, Gonna Sing, Gonna Shout, which features songs written and co-written by the award-winning songwriter Rick Lang. Critics praised Adkins' stellar vocals on the powerful song "Thinking Outside the Box," where he is joined by the vocal talents of Tammy King and Jerry Salley, contributing to the album's success. 
Dave Adkins Band has been busy touring across the country this year with upcoming dates on August 5 at CamFest in Flemingsburg, KY, August 6 at the Milan Bluegrass Festival in Milan, Michigan, Smokin' Downtown BBQ Festival in Flemingsburg, Kentucky, August 25 at the Blistered Fingers Bluegrass Festival in Litchfield, Maine, and August 26 at Pickin' in the Pasture in Lodi, New York. 
For a complete tour schedule, music videos, and more, please visit DaveAdkinsMusic.com.