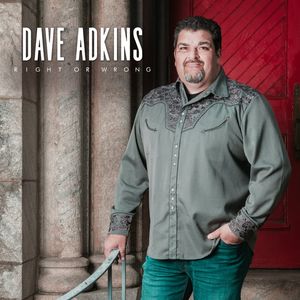 COUNTRY STANDARD TIME ALBUM REVIEW
Dave Adkins stepped to the plate and swung for the fences. His monster swing found the sweet spot and delivered a game-winning home run. "Right or Wrong" is filled with hot picking, great vocal presentations and a risk or two that absolutely pay off. If Adkins was trying to outshine previous releases, he may have done so. 
Adkins assembled an all-star team of musicians with Terry Baucom on banjo, Adam Steffey on mandolin, and Justin Moses on fiddle and Dobro. Mix in Carl Caldwell and Amanda Cook singing harmony alongside Adkins' rock-salt-and-honey-sweet voice and the combination explodes from the speakers. 
Leading off is "Blue Blue Rain," a banjo and fiddle driven song from the pen of Jerry Salley. The tune is hot, with a slicing mandolin chop from Steffey, and sets the stage for great things to follow. "Goodbye Caroline" a song about leaving home, delivers unbelievable harmony from Caldwell, especially in the second chorus when he sends his voice into the stratosphere. The first single, "Blood Feud," a duet and co-write with Larry Cordle, tells the tale of the famous feud between the Hatfields and McCoys. More great songs like "Him and West Virginia," "Roll Little River" and "Tired of Lonesome" continue what is for the most part a traditional bluegrass sound. But then there is a roll of the dice. 
Adkins takes a gamble with a cover of "I Can Only Imagine." The song was a huge success for Christian Rock group MercyMe around the turn of the century. It was only a matter of time before someone in the world of bluegrass took a shot at it. Like the original, "I Can Only Imagine" builds slowly, starting with simple instrumentation before exploding in a chorus of vocal beauty that defies anyone to not get chills. The bet pays off with what may be the signature track of the recording. 
Strong writing, superb musicianship, and the brilliant payoff on a gamble that could have easily failed, combine for a masterful recording project. This may very well be Adkins' finest work.